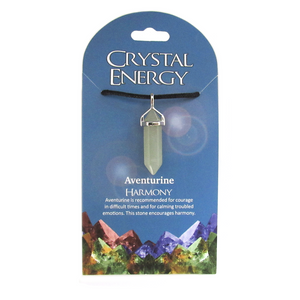 Aventurine (Harmony) Crystal Energy Pendant
Aventurine is recommended for courage in difficult times, for calming troubled emotions, and encouraging harmony. Also, for productively absorbing new experiences. Made in the USA. Lead-free pewter with six-sided natural gemstone point. 1.5 inches.

Crystal Energy pendants are perfect for collecting, crystal magic, and gift-giving. Each comes on a display card.