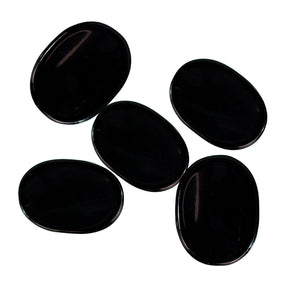 Black Obsidian Worry Stone
A small worry stone carved from natural Black Obsidian. One side has an indentation for placing your thumb. Approximately 1.5 inches long and sold individually.
Black Obsidian is a kind of natural glass, formed by rapidly cooling volcanic lava. Obsidian has been used as a scrying medium for thousands of years, since the time of the Aztecs. Obsidian is reputed to be a strong psychically protective stone, helping to cleanse negativity and dispel falsehood. Because it is an igneous rock, it contains the energies of both Earth and Fire.