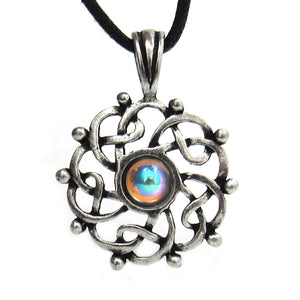 Celtic Harmony Completion Amulet
The Celtic Harmony pewter collection is inspired by the wisdom and sacred symbols of the ancient Celts. Celtic knots are generally formed of endless lines signifying the interconnectedness of the soul to the physical world.  The 10 knots surrounding a central gem represent completeness and perfection.
Made in USA. Includes a black cotton cord. Pewter with enamel gem. Measures 1.5 inches (height), 1.25 inches (width).