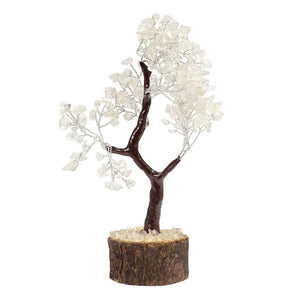 Clear Quartz Gemstone Tree
Gemstone trees are a wonderful addition to your home, altar, or indoor garden. They can be used as talismans for prosperity and growth, or simply enjoyed for their beauty.
This gemstone tree stands approximately 5 inches tall, with wire branches and 160 "leaves" of tumbled Clear Quartz. Base measures approximately 1.75 inches in diameter. Sizes and designs may vary slightly from photo.