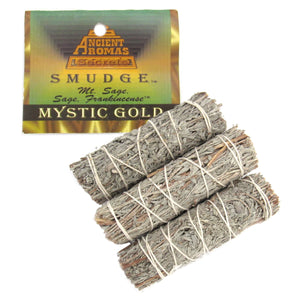 Package of 3 Mystic Gold Smudge Sticks (4 Inches) by Ancient Aromas
The Mystic Gold Smudge is a blend of Mountain Sage dusted with Frankincense resin. It's ideal for spiritual cleansing, purification, and consecration. You will receive a package of three (3) mini smudge sticks, each measuring approximately 4 inches long.
About Ancient Aromas
Ancient Aromas premium smudge sticks are made in Baja California, Mexico by the Cochimi-Kumeyaay tribe. The sacred bundles of native herbs are gathered in season, carefully dried, and tied by hand. Shape, color, and size will vary according to nature. Wildcrafted and cruelty-free.