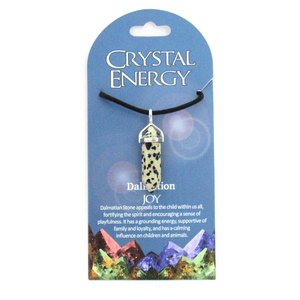 Dalmatian Stone (Joy) Crystal Energy Pendant
Dalmatian Stone appeals to the child within us all, fortifying the spirit and encouraging a sense of playfulness. It has grounding energy, supportive of family and loyalty, and has a calming influence on children and animals. Made in the USA. Lead-free pewter with six-sided natural gemstone point. 1.5 inches.

Crystal Energy pendants are perfect for collecting, crystal magic, and gift-giving. Each comes on a display card.