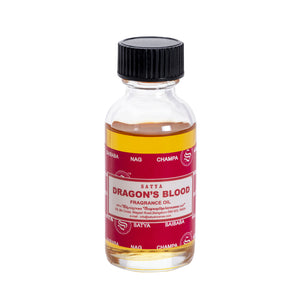 Dragon's Blood Oil (30ml) by Satya
Enjoy the powerful scent of Dragon's Blood in this concentrated aroma oil. Dragon's Blood is said to lift one's spirits, help with personal empowerment, and to block negative energies. 30 ml (approximately 1 oz) aroma oil in a glass bottle with screw cap. Created by Satya, the world-famous makers of Nag Champa incense.

Aroma oils are intended for home fragrance use and not for application on the skin. Suggested uses include adding to vaporizers or diffusers, oil warmers, potpourri, and sachets.