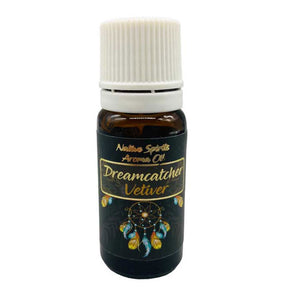 Dreamcatcher (Vetiver) Oil by Native Spirits
Almost everyone is familiar with the legend of the Dreamcatcher, which originated with the Ojibwe tribe. Crafted as a protection against nightmares, the woven web captures the bad dreams while allowing pleasant or useful ones to pass through to the sleeper. Scented with earthy Vetiver, Dreamcatcher Protection oil is a lovely addition to your nighttime prayers and meditations. 10ml aroma oil in glass bottle (approximately 1/3 oz).

Native Spirits aroma oils come in 12 inspiring scents, beautifully packaged for your magic, meditation, or simply enjoyment. Choose a favorite variety, or explore a new fragrance! Aroma oils are intended for home fragrance use and not for application on the skin. Suggested uses include adding to vaporizers or diffusers, oil warmers, potpourri, and sachets. Made in India.