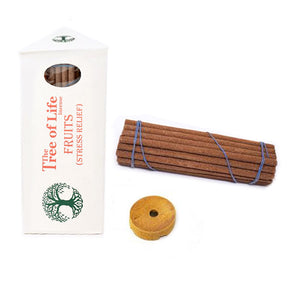 Fruits (Stress Relief) Tree of Life Tibetan Incense
Made from a blend of Himalayan woods and herbs, Tree of Life incense comes in 5 wonderful fragrances. Each is inspired by a different part of the Bodhi tree, where the Buddha once sat and attained full enlightenment. "Fruits" is a mix of sacred herbs with warm and rich Amber.
This box of approximately 30 sticks (40g) includes a burner stand. Each stick measures approximately 4.5 inches and can burn for around 50 minutes. Tree of Life's hand-rolled incense sticks are all-natural and environmentally friendly. Handmade in Nepal.