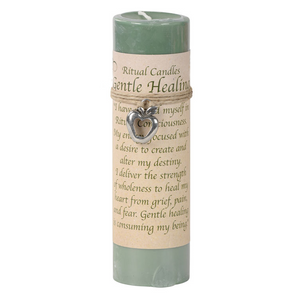 Gentle Healing Pillar Candle (with Pewter Pendant)
With its soothing, restorative scent, this pillar candle is an excellent aid to healing magic. It is also a lovely gift for someone who is recuperating from illness or sadness. These pillar candles are made in the US with pure paraffin wax and quality aroma oils. Includes a pewter Healing Heart pendant with cord.
Affirmation: "I have placed myself in ritual consciousness. My energy focused with the desire to create and alter my destiny. I deliver the strength of wholeness to heal from grief, pain, and fear. Gentle healing is consuming my being."
Candle measures 6.25 inches (height) x 2 in (diameter). Pendant measures 1.5 inches (length).