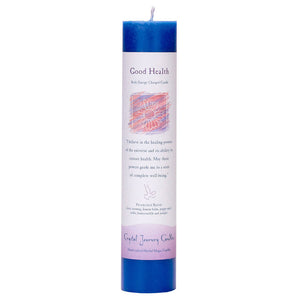 Good Health Pillar Candle by Crystal Journey
Celebrate the joy of a healthy body with this specially blended and charged candle from Crystal Journey. Its herbal and spicy fragrance is an excellent companion for your long-term healing magic.
Affirmation: "I believe in the healing powers of the universe and its ability to restore health. May these powers guide me to a state of complete well-being."
Fragrance notes: Clove, nutmeg, lemon balm, poppy seed, cedar, honeysuckle, juniper
Dimensions: 7 inches (height) x 1.5 in (diameter)