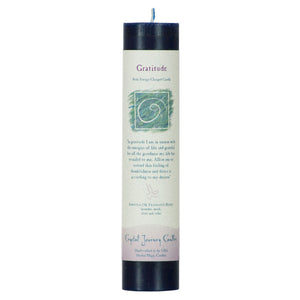 Gratitude Pillar Candle by Crystal Journey
This specially blended pillar candle is the perfect addition to your gratitude practices.
Affirmation: "In gratitude I am in unison with the energies of life and grateful for all the goodness that my life has revealed to me. Allow me to extend this feeling of thankfulness and direct it according to my desires."
Fragrance notes: Lavender, musk, clove, cedar
Dimensions: 7 inches (height) x 1.5 in (diameter)