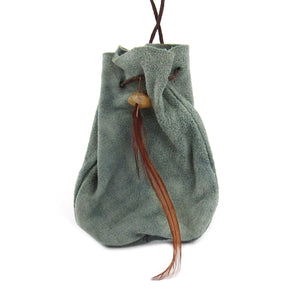 Gray Medicine Bag with Cord
A classic leather medicine bag (or dream bag) with a drawstring cord, perfect for holding your sacred treasures. A personal medicine bag is a tradition found among some North American indigenous peoples. Usually worn under the clothing, the medicine bag is a vessel containing various items, often herbs or charms. The contents that are believed to hold magical power and/or symbolize personal well-being and identity.

This medicine pouch is made of soft black leather and measures approximately 3 inches by 2 inches at its widest points, with a cord of just under 18 inches. Each is decorated with a feather and a stone (stone color varies, random choice).