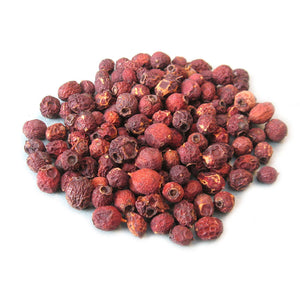 Hawthorn Berries (1 oz)
The gnarled, pink-blossomed Hawthorn is one of the most magical trees, rich in folklore and legend. It is a gateway tree strongly associated with the Faery world and the Underworld.

In folk magic, Hawthorn berries are used for charms of protection and fidelity. They may be strewn across a threshold to keep a lover from straying. When kept in a bowl of potpourri, they ensure that no enemies will enter your home. A bath made with Hawthorn berries is said to heal a broken heart.

1 ounce whole dried Hawthorn berries (Crataegus laevigata) by weight (excluding packaging). Sold as a botanical curio only (not a substitute for medical, legal, or other professional advice).