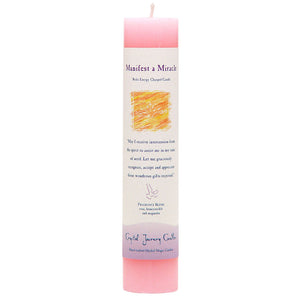 Manifest A Miracle Pillar Candle by Crystal Journey
A little extra help for those times when success seems unlikely, but not impossible. Attract the energy of manifestation with this specially charged candle.
Affirmation: "May I receive intercession from the spirit to assist me in my time of need. Let me graciously recognize, accept, and appreciate those wondrous gifts received."
Fragrance notes: Rose, honeysuckle, magnolia
Dimensions: 7 inches (height) x 1.5 in (diameter)