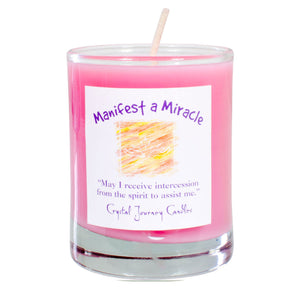 Manifest a Miracle Soy Votive Candle in Jar by Crystal Journey
Pure soy wax is combined with strong, inspiring scents to create the best jar candles around! Crystal Journey filled soy votives measure 2 inches in diameter and burn for approximately 18-20 hours. Each candle has a printed affirmation on the front to aid in focusing your thoughts.
Manifest A Miracle affirmation: "May I receive intercession from the spirit to assist me."
Manifest A Miracle fragrance notes: Rose, honeysuckle, magnolia
Dimensions: 2.5 inches (height) x 2 in (diameter)