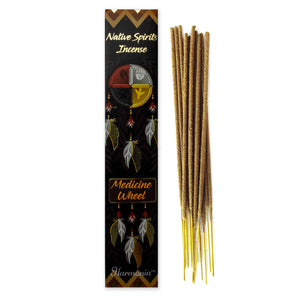 Medicine Wheel (Musk) Incense by Native Spirits
The Medicine Wheel is an ancient and sacred symbol to many Plains Indian tribes. It represents the boundaries of the earth (the Four Directions), the cycles of life, and collectively, all the knowledge of the Universe. Aromatic Musk is paired with sweet Sandalwood powder to create this earthy and meditative hand-rolled incense.

Approximately 10-12 sticks per 15g box.