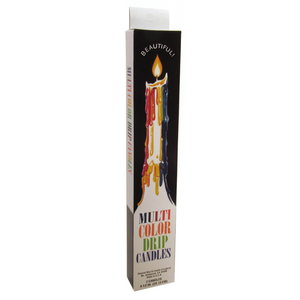 Multi-Color Drip Candles (Box of 2)
These white Multi-color drip candles do just what they're name says: Appearing first as a white taper candle, they drip a rainbow of colored wax as they melt. Everyone has to try them at least once! Stick one inside a wine bottle to make an irresistible centerpiece for your next dinner party. They're also ideal for ceromancy (divination by wax).

Candles measure approximately 9.5 inches long and each one burns for approximately 3-4 hours. Box of two candles. Proudly made in the United States.