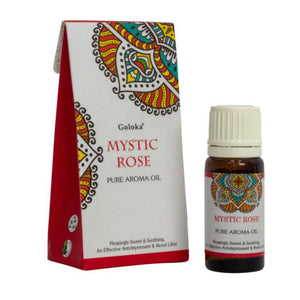 Mystic Rose Oil by Goloka (10 ml)
Enjoy the heavenly scent of Mystic Rose in this concentrated aroma oil from Goloka. 10 ml (approximately 1/3 oz) aroma oil in an amber glass bottle. Includes dropper cap. Sold individually (full case is 12 boxes).

Goloka Aroma Oils
Goloka products use natural essences and fine aroma oils to create a luxurious line of home fragrance products. Inspired by the prized perfumes of the world, Goloka Aroma Oils include scents like French Lavender, Himalayan White Musk, and Arabian Myrrh. With over 16 years experience in creating incense and oils, Goloka create quality products using traditional techniques. Aroma oils are intended for home fragrance use and not for application on the skin. Suggested uses include adding to vaporizers or diffusers, oil warmers, potpourri, and sachets.