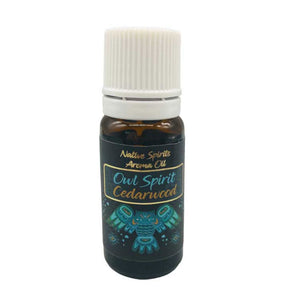 Owl Spirit (Cedarwood) Oil by Native Spirits
Connect to the Owl's spirit when you seek for wisdom and intuition. Reputed for his vision, he will guide you to see the truth and face your darker side. All-natural Cedarwood essence is the basis of this Owl Spirit aroma oil. 10ml aroma oil in glass bottle (approximately 1/3 oz).

Native Spirits aroma oils come in 12 inspiring scents, beautifully packaged for your magic, meditation, or simply enjoyment. Choose a favorite variety, or explore a new fragrance! Aroma oils are intended for home fragrance use and not for application on the skin. Suggested uses include adding to vaporizers or diffusers, oil warmers, potpourri, and sachets. Made in India.