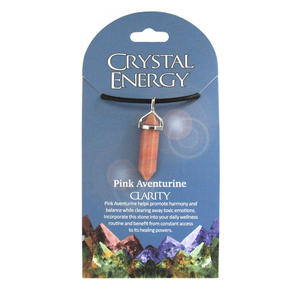 Pink Aventurine (Clarity) Crystal Energy Pendant
Pink Aventurine helps promote harmony and balance while clearing away toxic emotions. Incorporate this stone into your daily wellness routine and benefit from constant access to its healing powers. Made in the USA. Lead-free pewter with six-sided gemstone point. 1.5 inches.

Crystal Energy pendants are perfect for collecting, crystal magic, and gift-giving. Each comes on a display card.