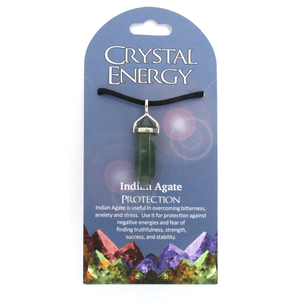 Indian Agate (Protection) Crystal Energy Pendant
Indian Agate is useful in overcoming bitterness, anxiety, and stress. Use it for protection against negative energies and fear of finding truthfulness, strength, success, and stability. Includes a black cotton cord. Made in the USA. Lead-free pewter with six-sided natural gemstone point. 1.5 inches.

Crystal Energy pendants are perfect for collecting, crystal magic, and gift-giving. Each comes on a display card.