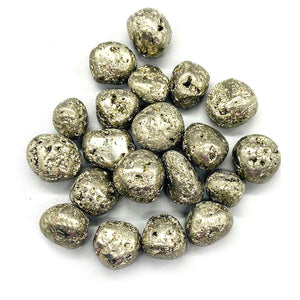 Pyrite (Tumbled) - 1 lb
A bag of tumbled Pyrite from Peru, often used to attract abundance and prosperity. Pyrite's resemblance to gold nuggets makes it an obvious choice for money-drawing magic. A mineral of the Sun, Pyrite is also associated with all the Apollonian qualities: Logic, success, clarity, confidence, and vitality. 
1 lb bag tumbled Pyrite (sold by approximate weight, not stone size or count).