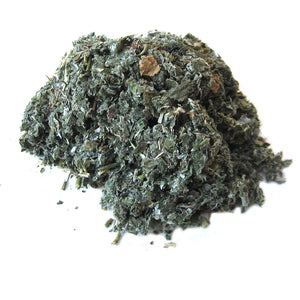 Raspberry Leaf (1 oz)
The pleasant-smelling leaves of the Raspberry bush have long been used in herbal remedies, especially for women's health.

A classic Venus herb, it is said to bring good luck in love and marriage. A bath made with Raspberry leaf, in Hoodoo tradition, will draw a lover and keep him or her faithful. It is also used to enhance creative and divinatory powers.

1 ounce cut and sifted Raspberry Leaf (Rubus idaeus) by weight (excluding packaging). Sold as a botanical curio only (not a substitute for medical, legal, or other professional advice).