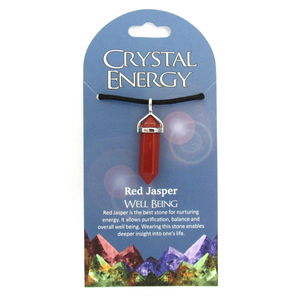 Red Jasper (Well Being) Crystal Energy Pendant
Red Jasper is the best stone for nurturing energy. It allows purification and balance and overall well being. Wearing this stone allows for deeper insight in life.  Includes a black cotton cord. Made in the USA. Lead-free pewter with six-sided natural gemstone point. 1.5 inches.

Crystal Energy pendants are perfect for collecting, crystal magic, and gift-giving. Each comes on a display card.