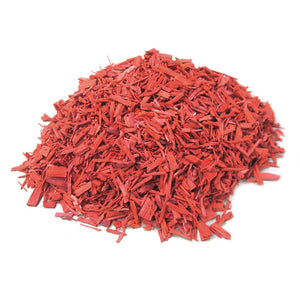 Red Sandalwood Chips (1 oz)
A traditional ingredient for sacred incense, Red Sandalwood promotes meditation and relaxation. The naturally intense red wood pieces were used in centuries past to make a dye for fabrics. Red Sandalwood has little fragrance of its own. The chips make a good carrier for scented oils for potpourri and sachets.

1 ounce Red Sandalwood chips (Pterocarpus santalinus) by weight (excluding packaging). Sold as a botanical curio only (not a substitute for medical, legal, or other professional advice).