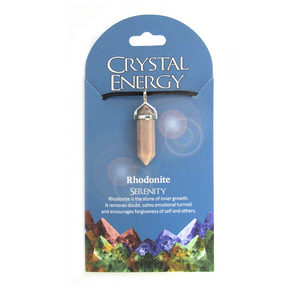 Rhodonite (Serenity) Crystal Energy Pendant
Rhodonite is the stone of inner growth, removing doubt, calming emotional turmoil and encouraging forgiveness of self and others. It helps to identify one's gifts as useful for loving change. Made in the USA. Lead-free pewter with six-sided gemstone point. 1.5 inches.

Crystal Energy pendants are perfect for collecting, crystal magic, and gift-giving. Each comes on a display card.