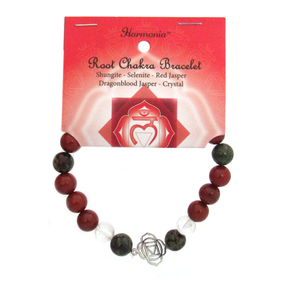 Root Chakra Gemstone Bead Bracelet (8mm)
A Root Chakra stretch bracelet made with genuine gemstone beads and a silver-tone charm. The Root Chakra (or Muladhara Chakra) is one's vitality and physical energy. A healthy Root Chakra will give you courage, passion, self-confidence, and stability.

One size fits most small-to-medium wrists. Beads measure approximately 8mm in diameter, and bracelet measures about 7 inches (unstretched). Made with Selenite, Shungite, Red Jasper, Dragonblood Jasper, and Quartz.