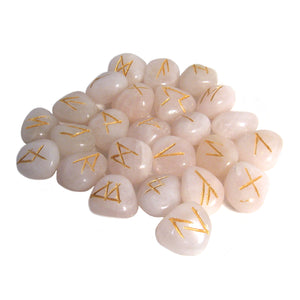 Rose Quartz Rune Set
A rune set carved in tumbled Rose Quartz. The set contains 25 rune stones (the 24 standard Elder Futhark runes, plus an optional blank "wyrd" rune). Includes a velveteen drawstring bag (not shown). Stone sizes can vary from 1/2 inch up to 1 inch.
Traditional meanings of Rose Quartz include emotional awareness, healing, love and compassion.