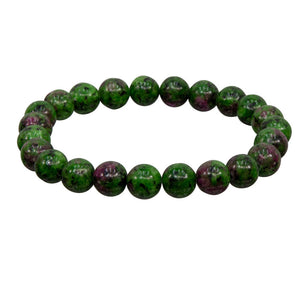 Ruby Zoisite Round Bead Bracelet (8mm)
A beaded natural Ruby Zoisite bracelet, perfect for layering or wearing by itself. One size fits most. Beads measure approximately 5-8mm in diameter (sizes vary).

About Ruby Zoisite

Ruby Zoisite combines fiery Ruby stone with earthy green Zoisite. It is said to harmonize mental and emotional energies and encourage the healing of anger and trauma. Wear Ruby Zoisite to strengthen the heart and bring love, confidence, loyalty and courage.