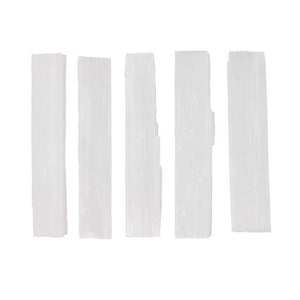 Selenite Mini Wands (Set of 5)
A package of 5 mini Selenite wands, each measuring approximately 4 inches long.

Selenite resonates with the Crown chakra, helping to connect the use with higher wisdom and intuition. It gently opens all the chakras, preparing the etheric body for energy work. It is an excellent choice for meditation, healing work, and spiritual discovery.

Selenite stone is a natural product and each piece will vary slightly in size, shape, and appearance. Crackle-like patterns, seams, and rays are all typical characteristics of this gemstone.
Origin: Morocco