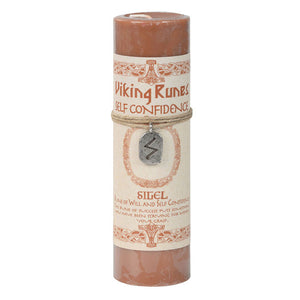 Self-Confidence Pillar Candle (with Sigel Rune Pendant)
Draw on the ancient power of the Norse Runes, combined with corresponding colors and scents, to empower your candle magic. Sigel is the Rune of willpower as well as the rune of success.
These pillar candles are made in the US with pure paraffin wax and quality aroma oils. Light the candle with intention, then carry or wear the pewter amulet to increase your powers of Self-Confidence.
Safety: Remove paper label and cotton cord. Trim wick to ¼ inch or shorter before burning. Never leave burning candles unattended.
Candle measures 6.25 inches (height) x 2 in (diameter). Pendant measures 1.5 inches (length).
Color: Golden Brown