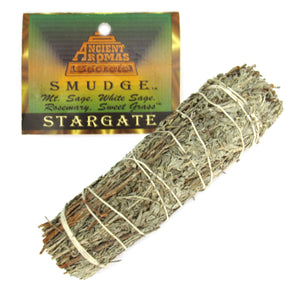 Stargate Smudge Stick (5-6 Inches) by Ancient Aromas
Mountain Sage, White Sage, Rosemary and Sweetgrass mingle to create the mystical fragrance of the Stargate smudge stick. This blend of four sacred herbs is perfect for purification, blessings, meditation, and astral travel. 5-6 inches.

About Ancient Aromas
Ancient Aromas premium smudge sticks are made in Baja California, Mexico by the Cochimi-Kumeyaay tribe. The sacred bundles of native herbs are gathered in season, carefully dried, and tied by hand. Shape, color, and size will vary according to nature. Wildcrafted and cruelty-free.