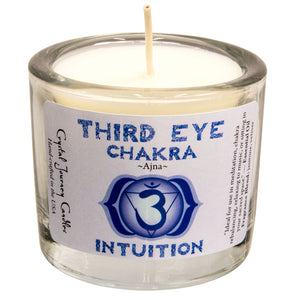 Third Eye Chakra Soy Votive Candle in Jar by Crystal Journey
Inspiring Jasmine and Vetiver mingle in this highly scented Third Eye Chakra soy wax candle. Ideal for use in meditation, chakra balancing, and relaxation.
Pure soy wax is combined with strong, inspiring scents to create the best jar candles around! Crystal Journey filled soy votives come in a heavy glass jar and burn for approximately 18-20 hours. Made in the USA.
Dimensions: Approx. 2.25 inches (height) x 2.75 in (diameter)