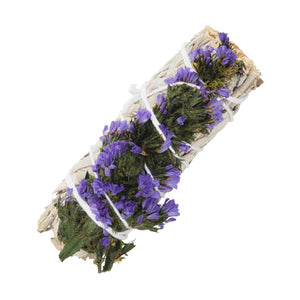 White Sage with Purple Flowers Smudge (4 Inches)
A powerful smudge stick combination of White Sage and purple Sinuata petals. White Sage offers a smoke that helps neutralize the energy of any area. Good for cleansing and rituals of healing, blessings, prosperity, protection or any purpose.
Purple Sinuata is a vividly colored, papery flower associated with kindness, pleasant memories, and peace. Our smudges are wild-crafted and tied by hand. Thread color may vary. Approximately 4 inches in length.