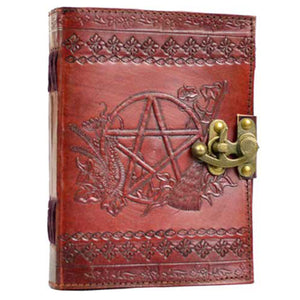 Witch's Altar Leather Journal with Latch
A wonderful leather journal with a cover featuring the tools of a Witch's altar. It's made from brown-colored goat leather and handmade paper. The unlined pages are securely sewn into the binding. A brass latch secures the cover.
This finely detailed book would make an excellent Book of Shadows, dream journal, or sketchbook! Contains approximately 240 pages of handmade cotton/linen paper.
Material: Leather, handmade paper, brass latch
Dimensions: Approx. 5 inches x 7 inches