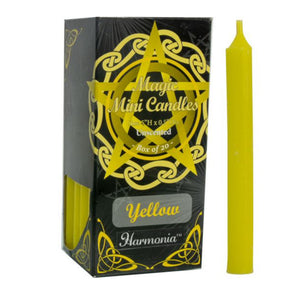 Yellow Mini Candles (5 Inches) - Box of 20
A box of 20 yellow mini candles, perfect for your ritual needs. Each candle measures approximately 1/2 inch diameter and 5 inches long. Made from pure paraffin wax, non-toxic dyes, and cotton wicks. Unscented.

Yellow candle uses: Action, charisma, attraction, changing minds, charm, cheerfulness, communication, concentration, confidence, convincing someone, elemental Air, the Sun, energy of Gemini, creativity, divination, eloquence, endurance, energy, gain trust, healing, honor, inspiration, confidence, intellect, intelligence, knowledge, learning, logic, memory, persuasion, power of thought, self promotion, retention, security, stability, mental clarity, imagination, studying, disposition, travel and wisdom.